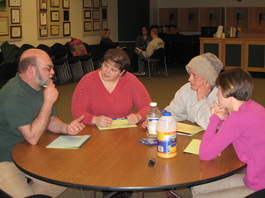 Ever been nervous about facilitating a day-long meeting?  A perspective client was planning a day-long session. No one had much experience leading an event like this.  They envisioned a type of mini-retreat and professional development opportunity for about 25 people from all over New England.  This was the first time they were hosting these people.  They were eager to make a lasting impression.
The proposed agenda placed me after lunch for an hour of teambuilding – the shot in the arm/let's have some fun approach. But I quickly discovered an overloaded agenda.  There was a lack of focus.  I saw a deer in the headlights.  So I recommended these 5 strategies for them:
1.  Work backwards: Be clear on your outcomes for the day.  Ask yourself, "What do I want participants saying to one another at the end of our day together?"  "What are the takeaways from the day?"
2.  Tell them 3 times: At the beginning of your session, tell your participants what they will experience.  Then, during the session, comment on the actual experience.  Finally, at the end of the session, remind them what they just experienced.  This dramatically increases their retention of their experience or learning.
3.  Theme:  It's easier for the facilitator or leader of the session to keep participants focused if there is a theme woven into the day.  It becomes the anchor for the session and encourages a flow.  Participants also like to know what to expect so be transparent about the theme.
4.  Less is more:  Most people new to facilitating underestimate how long everything takes, from transitions from breaks to presenting basic information.  Be sure to add in a buffer for questions, off-shoot conversations, or A/V snafus.
  
5.  Planning time: Preparing for any type of meeting is the key to its success.  If new to facilitating meetings, plan to spend twice the amount of time planning for the session than the session itself.  My client was planning on a 7 hour day so they should be willing to spend 14 hours to prepare.  This includes preparing the agenda, anticipating potential road blocks, and being so comfortable with the agenda that if something needed to change at the last minute, it would not throw the day into disarray.  But don't worry, with most things, the more you do it, the less time it takes!