"Give the pupils something to do, not something to learn; and the doing is of such a nature as to demand thinking; learning naturally results." – John Dewey
This is one of my favorite quotes because it supports my teaching philosophy.  Read on to learn more about how I got here…
You are?
I'm Leslie. With an 's'.
I like to 'dig in', observe people and processes and ask lots of questions. As a philosophy major at college in the early '90s, I realized my passion was people – making connections and interacting with them. After college, I served two terms with AmeriCorps, one with the Vermont Anti-Hunger Corps, and the other with the American Red Cross as a rapid response corps member in L.A.
Wow! Vermont to L.A. and back to Vermont. Why?
The sense of community in Vermont was so attractive and of course the great outdoors. When I returned, I continued to volunteer for the Red Cross as a disaster action team leader.
What does a 'disaster action team leader' do?
I responded to local emergencies caused by residential fires and natural disasters.
Did you have an "A-Ha" moment when volunteering?
Absolutely! During those moments of high stress, I understood the impact of effective communication. The true meaning of staying calm, cool and collected was essential. The ropes course, the local emergencies, all made me realize how I'd been affected by life-changing events.
How did that moment make you want to become a trainer?
I had also been teaching CPR and First Aid and realized that by knowing those specific skills, I was confident in saving someone's life. Why couldn't learning specific skills also apply to effective communication and collaboration?
I started my first training company, All Aboard, Inc., in 2002. I initially provided training for public school teachers to help them create more positive environments in their classrooms. Then I branched out and delivered many teambuilding workshops, helping all types of organizations foster a sense of community through respectful communication skills.
Describe what you do now.
I've moved to the DC area and I help people communicate better. It may sound simple but there are many ways to improve how people communicate at work, at home or anywhere! After earning my master's degree in experiential education, I became a professor at a college teaching interpersonal communication and small group dynamics.  I've been incorporating hands-on learning ever since.
Experiential education – what's that?
It's a philosophy of education where the teacher and student use direct experiences in which to learn. It's learning through action. The Outward Bound® program, service learning, and outdoor education are all types of experiential learning.
The process of using our whole selves to learn about how we behave and how we react made me want to bring those outdoor experiences inside so that I could reach more people.
I've created programs to meet client's needs, particularly for meeting facilitation, team building events, and developing specific communication skill training.
What else do you do in your work?
I'm passionate about leadership development and am a certified leadership coach.  Most leaders need help balancing the demands of leadership within themselves, their colleagues, and their organization.  I provide that support by listening and asking questions to guide the leader to their own choices about what to change and what to keep.
I'm also certified to teach Edward deBono's Six Thinking Hats® Method. This is a meeting management tool that's proven to reduce meeting time by up to 50%! Learn more.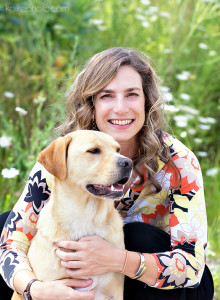 Final question – for fun: What is something you're really proud of and why?
My yellow lab Milo and I completed the certification process for being a therapy dog.  We both enjoy the Milo Reading Hour at the local library for young kids.