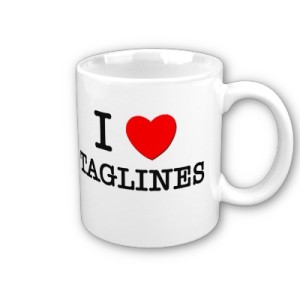 Recently, someone told me that they had a personal tagline. He shared it with me: "unlimited patience yields immediate results."  Wow.
It made me stop and think, not only about what my tagline would be right now, but the significance of having one and letting other people know it.  What's the importance of communicating your tagline?  After all, it's only about you.  But research shows that people are more likely to achieve a goal or live by a tagline if they share it with others.  http://sidsavara.com/personal-productivity/fact-or-fiction-the-truth-about-the-harvard-written-goal-study
Businesses are constantly searching for the best tagline to capture the attention of customers with something they will remember.  And while a personal tagline is similar in regards of being clever and succinct, it's really about capturing and retaining your own attention.
Personal taglines are like mottos for life.  They provide us with clarity in who we are and a baseline to return to when in doubt of our direction.  And these are not just to advertise to others but to maintain our individual motivational compass.
For example, when I was in my mid-twenties, I participated in a youth leadership training as a facilitator.  Our multi-day experience concluded with every youth and adult declaring their personal tagline.  They were typed onto a certificate and read aloud to the entire group, graduation style.  Mine was: "I am a woman of substance, full of life, offering my support to others." 
Fifteen years later, I can see the impact that experience had and how it has affected my decision making and goal setting.  I'm grateful for such clarity and the chance to share it whenever I can.  It's powerful.