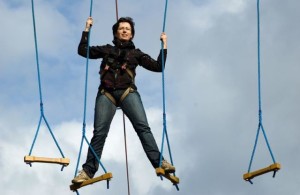 "What do you mean by harness?"I could see the apprehension in her face.  She was nervous.  But she pressed on.
"Do we have to climb the high elements?"  Her questions hung in the air for a few seconds as I thought about how to answer.  No, it wasn't required for anyone to climb any of the high elements.  But, if they chose to, they would have to wear a harness.
I was working with a group of 4th/5th grade teachers from the Boston area at Project Adventure. I was facilitating a day of team building that included climbing high elements, between 25 – 45 feet in the air.
"But why would we want to do a high element?"  Because it's fun?   Because it's thrilling? These are answers that easily appeal to me.  But the universal truth is because it allows you to stretch yourself more than you think is possible.
"Because, if you want, you can. This is a unique opportunity for you and your group. Do you want to try?"  She looked doubtful but the other group members assured her that they were nervous as well. This was a challenge for them to experience together. They would act as her witnesses and later remind her of how she stretched herself.
The stretch zone, as I like to refer to it, is when we feel uncomfortable, challenged, nervous.  It's the zone between comfort and panic.  And the more time we spend in it, the larger our comfort zone becomes.
Later that day…"I can't believe I did it!  Thank you!!"  The teacher was glowing with pride and accomplishment. To knowingly place ourselves into our stretch zones takes courage and encouragement.  And it is indeed a gift to support people as they explore their own stretch zone.