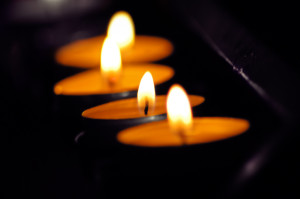 A silver tray of unlit tea lights makes its way around the table.  Each family member answers the question, "What are you grateful for?" as they light a candle.  This is a tradition that my family does during holidays such as Thanksgiving.  And it got me thinking.  How often do we really express our gratitude?  And what does it matter?
Research shows that those whom practice gratitude have:
Stronger immune systems and lower blood pressure;
Higher levels of positive emotions;
More joy, optimism, and happiness;
Acting with more generosity and compassion;
Feeling less lonely and isolated.
Here's a great article explaining more: http://greatergood.berkeley.edu/expandinggratitude
I clearly see these benefits for myself when I do the following 2 things, one privately and one publicly.  The first is keeping a gratitude journal.  At the end of the day, just before bed, I write down 3 things I'm grateful that occurred during the day.
The second is that I thank my competition after playing a good game of soccer.  Without them, there would be no game!  When we shake hands after the game, I don't say the typical "good game." I say, "Thank you for playing."  Win, lose, or tie.  I'm grateful for the opportunity to play.
How and where can you express your gratitude?